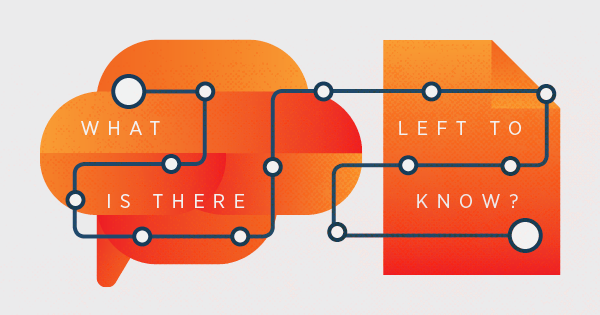 If you're a marketing or design professional today, among all your other responsibilities, you're most likely also tasked with buying print services for any print materials your organization is producing. Previously, a dedicated production manager or print buyer would find qualified vendors, get bids, submit files and deal with the printer. Now, you are responsible. Considering that you're already trying to stay up-to-date on topics like customer experience, personalization and data, is it realistic to think you'll also be able to acquire a deep understanding of a complex subject like print?
Take paper, for example. Many professionals don't invest the time needed to get familiar with terms like opacity, formation, brightness or permanence because they don't find the potential return worth it, given their other priorities.
Do you need to know about, say, opacity to be able to buy print services for your most common projects? Probably not, because a good print service provider will help fill in any knowledge gaps to make sure your project uses the appropriate paper, based on the design and specifications.
Do you need to have an understanding of the general types of paper available to buy print services for your most common projects? Probably.
Being familiar with different types will help you know what to ask for when sending a project to print. It will also help ensure that you know what to anticipate in terms of quality and performance. This means betters odds of your final product matching your expectations.
Below is a quick summary of the general types of paper available for business and marketing communications.
Commercial Printing Papers
Coated
During manufacturing, a coating is added to the surface of this paper to limit the amount of ink that gets absorbed during printing. With coated paper, ink stays on top, increasing the sharpness of complex graphics.
Coated paper comes in several finishes:
Gloss – a shiny surface good for crisp images in full-color printing
Dull/Silk – a non-gloss surface good for large sections of solid ink and improved readability
Matte – a low-glare surface, good for readability
Coated paper is ideal for glossy photos, publications, product brochures and catalogs. It is not ideal for materials that need to be written on.
Offset & Opaque (Uncoated)
Offset uncoated paper is sold in large volumes and used in a lot of printing applications. It is more economical than Opaque and it is a good option for when budget is more of a concern than print quality.
Opaque uncoated paper has more opacity than offset, which provides increased brightness. Ink absorbs more evenly on opaque, providing smooth solids and good reproduction. Opaque has less show-through on two-sided printing, which is good when designs have solid blocks of color, bold type and heavy coverage.
Offset and Opaque papers are ideal for long print runs, direct mail, and general business documents.
Text & Cover (Uncoated)
Text & Cover is the phrase used to describe premium uncoated paper. It is more expensive than other uncoated options. Text & Cover provides superior printing reproduction, a variety of colors and a wide array of textures. It can handle finishing options like coatings, foil stamping and embossing. Textures include selections like cockle (rough and wavy), eggshell, felt, laid, smooth and more.
Text & Cover is ideal for high-impact communications like reports, corporate brochures, identity pieces, business cards and luxury packaging.
Specialty
The last category of paper includes more than just paper. The broad "specialty" category includes unique paper options as well as options that are not paper at all. Any material that can be printed on that is not already included in the categories above is considered specialty. Specialty papers include things like metallic, translucent, synthetic (non-tree), thermal, and food packaging.